Upcoming open days:
VIC 56 will be in steam and open to visitors on 17 and 18 September 2016 as part of Chatham Historic Dockyard's "Salute to the Forties". Best time for access will be 12.30 to 3pm. Do come!
Introduction
The VIC 56 is an eighty-five foot steam ship, built in 1945 as part of the wartime shipbuilding program, and now preserved in working order by a small group of volunteers. She is moored at Chatham Historic Dockyard, on the River Medway in England, and is operated in steam a number of times each year, often to the Thames estuary area.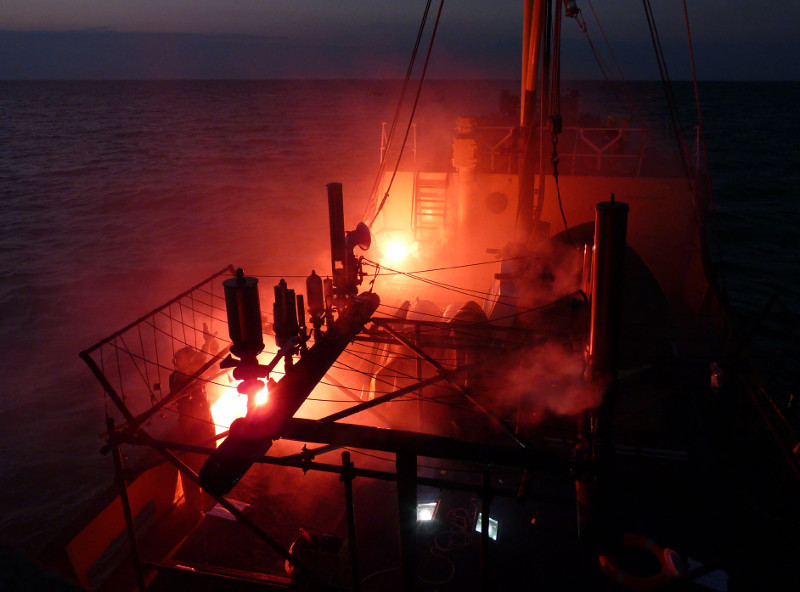 VIC 56 Performing in Whitstable Sounding. Photo: Alan Jenner
For most of her working life, the VIC 56 was used in Rosyth naval base as an ammunition vessel. She was due to be disposed in September 1978, but was bought for preservation by J. H. Cleary, the present owner.
A video of the VIC 56 underway by Bob Gwynne.
Open days:
The VIC 56 is open to visitors a few times a year. To find out the dates for these open days, and how to get to the mooring, click here.
Proceed to full detail page...
---
Copyright notices apply throughout website:
Text Copyright (c) Henry Cleary. Photographs Copyright (c) Credited authors.